hey guys!
track day is coming up and have you got your tyre pressure gauge?
two of the most important things affecting a car's handling on track..
1. your air pressure and 2 .your wheel alignment..
take control of your air pressure!
dont leave it to guess work and NO car should be without one!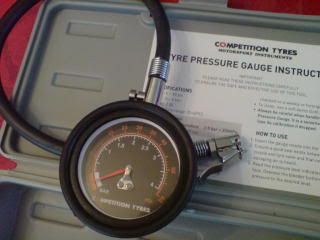 features:
motorsport tyre press gauge.
with bleeder valve to reduce pressures quickly at the track
unit increments in BAR & PSI.
as for KPa.. 1 Bar = 100 KPa.. hence 2.5 bar is 250KPa
$45 each with FREE DELIVERY and 'OAKLEY STYLE' SOFT CASE
BUY NOW with FREE DELIVERY!
<-- click here!!
PM me for any queries!